When first impressions really count. Having a set of social media graphics branded to your business can help create the right impression and share key information about your business quickly and effectively. Read why you need to have a set of branded graphics ready to use for your social media and what kind of templates would be most useful.
Why do you need graphics?
The main reason why template graphics are loved so much is that they bring some brand consistency to your social feeds so that your audience instantly knows it's you. This easy recognition is eye-catching to 'stop the scroll' and boosts engagement. On Instagram for example, you can create a 'pretty' feed layout with them. This works well when everything is consistent.
We still see companies using images and quotes they have taken straight from Google – eek! The main issue here is copyright and in some cases, you might even see a watermark on the image too. Having your own batch of templates on hand will also save you time.
There are plenty of template graphic packs out there, but you still have to amend them for your business. Changing the designs to add your logo, swapping to your colours and your preferred font, as well as any other tweaks you may want on the copy to your tone of voice.
However, we can save you more time by creating your templates in your branding and all set up, sized for the platforms and formats you need. All you need to get going is download and post. Moving forward, you have full access to amend the template to create new quotes for example or update your opening hours. Any issues, we can always look to help.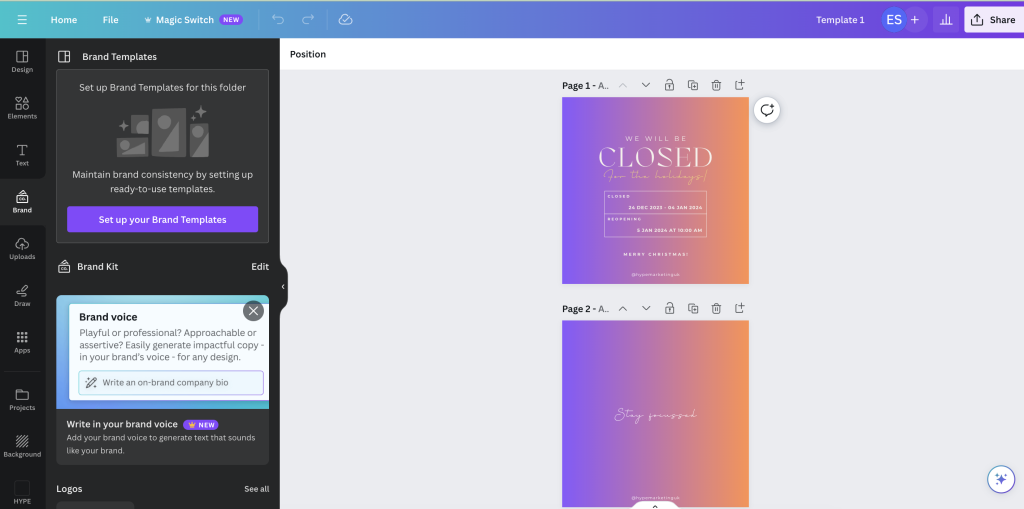 What template graphics would we need?
This can be unlimited and depends on your business needs. We've shared a list below of some of the most popular templates to get you thinking.
Holidays – from the various Bank Holidays, key seasons like back to school, to your own vacay
Opening Days & Hours
Last orders for despatch before key holidays
Key messages for your business
Product feature and USP
Brand features for key lines
Quotes
Memes
FAQs
Job Opportunities
Meet the team
Client Reviews and Testimonials
Technical issues such as phone lines down or planned website maintenance downtime
Sale and promotional offers
Expert Tips
Infographics, charts and lists
New blog
Press Coverage
What formats should we consider?
Each social media platform requires different sizing so it's good practice to use the correct one for each platform and function. Here's a list to consider:
Facebook: Posts, Stories, Banners
Instagram: Posts, Carousels, Stories, Reels, Highlight covers
Threads: Posts
Pinterest: Pin posts, Carousels, Board covers
LinkedIn: Posts, banners.
Tik tok: Posts
YouTube: Covers
We can also help create additional resources such as for emails, website banners etc. so that everything matches up.
How it works
It really all starts with a call or email to us and we can get in touch to find out more about what you need. Here's a brief guide to how it works:
Get in touch and share with us and share your brand assets (logo, colours and fonts if you have them).
We will discuss what style of graphics you like. Modern, traditional, fun and bright, image-led? Maybe share some examples of what you have liked and why.
We will define which will be the most useful format and types of templates you need. Also look at the end file type you want, static post or any animation.
Once this has been confirmed and our quote accepted, we can create up to 3 design formats for you to review, before moving to the next stage.
Provide us with any company imagery and copy for any specific posts to be created. The chosen design is then moved into each chosen template and format.
The full designs will be shared with one further set of amends available for any final tweaks you need.
The final approved designs are shared with you via Canva (a free account is all you need) so you can download them as you need and keep them up to date. We'll even share a handy guide to editing and working with your templates.
Still not sure? Give us a call and we can chat through how this could work for your business.