Another year is pending and it's time to get your marketing strategy and plans in place to make the most of the year. Browse our list of the top Awareness Days for 2023 you need to make them work for your business and some tips on how to use them well.
Why use Awareness Days?
Here at Hype Marketing, we are fans of Awareness Days as a great starting point to get your creative juices flowing for your marketing plan for 2023. Here are 4 reasons why:
They can get your team involved in a more community-spirited angle such as raising funds for a good cause.
If you are looking to do a little influencer gifting, timing and theming a PR box alongside a day can help your products get noticed.
PR works in advance and seeing something that is ideal for your product, or your business's story can be a great pitch angle.
They add fun and humour to your communications, especially on social media.
There really are so many Awareness Days. We wouldn't recommend using too many and being selective about what is authentic. By this, we mean what works with your business product or service and brand values. Would it feel too forced and too difficult to create a tangent? If so, don't use it.

Find a month-by-month guide to Awareness Days here and we have selected a few examples for 2023 to get you thinking.
JANUARY 2023
Monthly Campaigns: Veganuary & Dry January
The vegan market continues to grow year-on-year, so any campaign you create needs to educate, inspire and entertain to stand out. Read more about Veganuary here.
Dry January might lend itself to a good meme, and there is an increasing trend for the 'sober-curious' on a health kick that you might consider focusing on. However, we did spy this great twist to try (excuse the pun):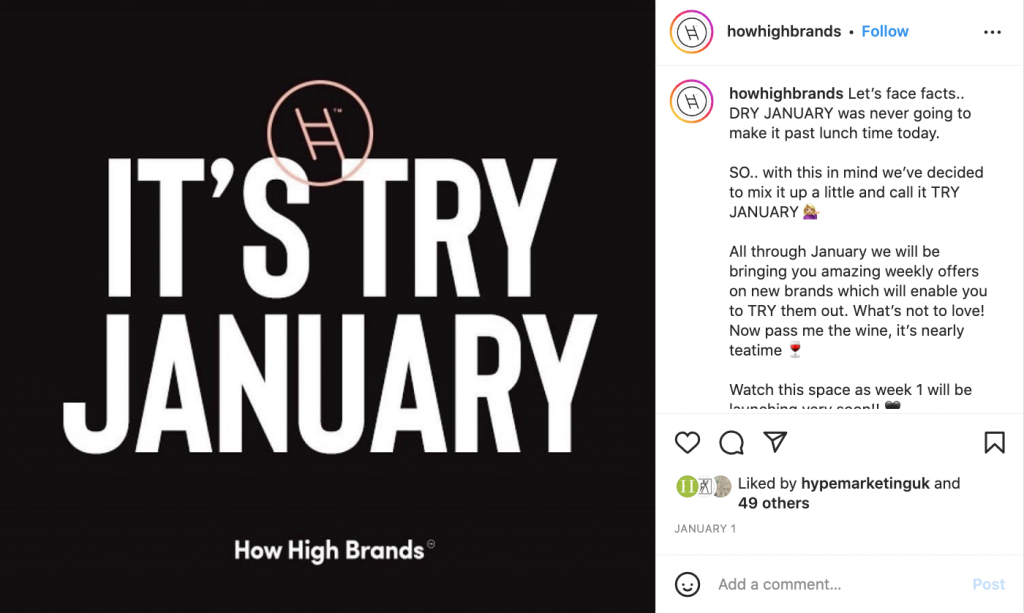 Monday 16th January 2023 Blue Monday may be known as 'the saddest day of the year;' but the colour blue represents freedom and imagination, giving a sense of calm and relaxation. Share your blue hue products, or why your branding is this favourite colour. #BlueMonday
Thursday 19th January 2023 Get to Know Your Customer Day is a great reminder to learn more about your customers, and what they really want.   Either create a survey to email out or get busy with Question Stickers and Polls on Stories to ask their opinions.
Sunday 22nd January 2023 the start of the 15-day festival for Chinese New Year is the Year of the Rabbit. #chinesenewyear #cny #yearoftherabbit #lunanewyear


FEBRUARY 2023
LGBT+ History Month promotes equality and there's a wealth of resources to tap into on their website. Just don't forget to use their hashtags #LGBTHM22 #LGBTplusHM #educateOUTprejudice
Tuesday 14th February 2023 Valentine's Day and of course, the anti-Valentines, Singles Day.  Check our Aldi's post that covers both #Valentines and #Galentines.
Friday 17th February 2023 and we predict seeing Random Act of Kindness Day grow this year as brands are actively sharing their wealth and doing good deeds. From actively offering a pay it forward schemes to straightforward surprises. Locally Morrisons have Community Champions who regularly leave gifts to be found, send thank you's to nominated people and much more. Go spread some kindness!
Tuesday 21st February 2023 Shrove Tuesday or Pancake Day as we all know it. A chance to show off your own cooking, vote on toppings and even flipping skills like Wonderful Brands. #pancakeday

MARCH 2023
Wednesday 8th March 2023 International Women's Day is all about #EmbraceEquity #IWD2023 and you can see the pose you need to re-create here. Many focus on sharing stories of inspiring women or sharing quotes, but we loved this more personal story from a mum of girls and a female entrepreneur to a female team, PR Dispatch.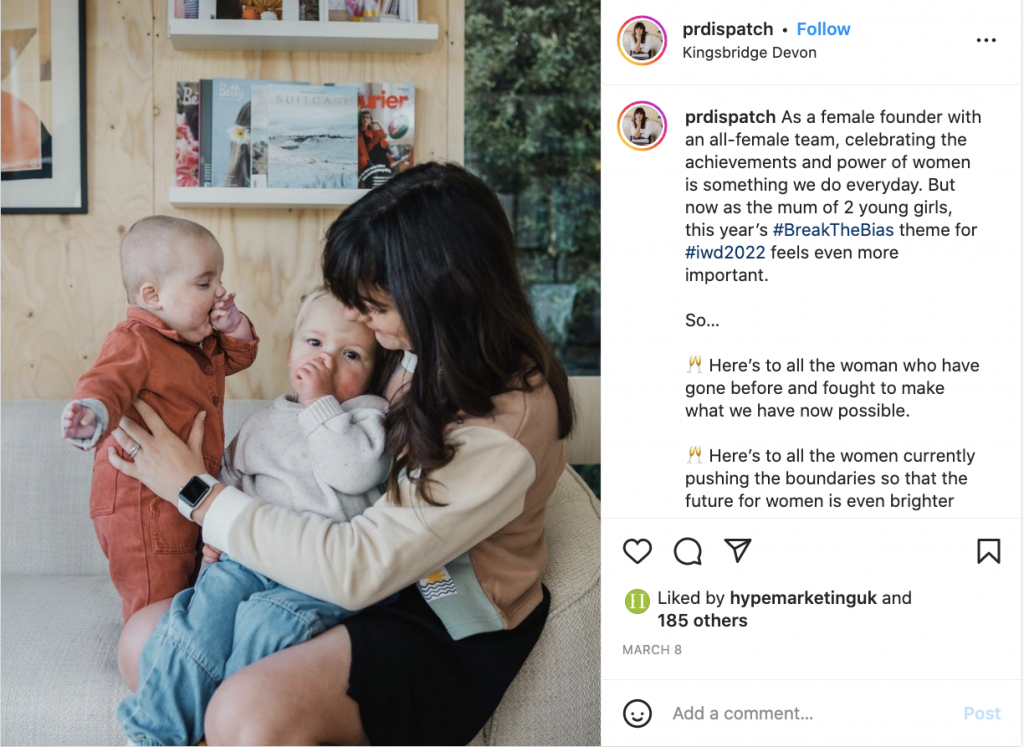 Monday 20th March 2023 International Day of Happiness and it must be said with so much pouting on models, isn't it nicer to see more of a happy response? We implore you to share more happy vibes and if you need inspo then just had to The Happy Newspaper or The Goodnews Movement for all the happiness you need. #InternationalDayofHappiness

APRIL 2023
Stress Awareness Month, which is counterbalanced by the stress-relieving National Pet Month. Any excuse to share your camera roll of pet pictures.
Saturday 1st April 2023 April Fool's Day and it's your chance to prank everyone. Here are a few good ones (click the link for more!):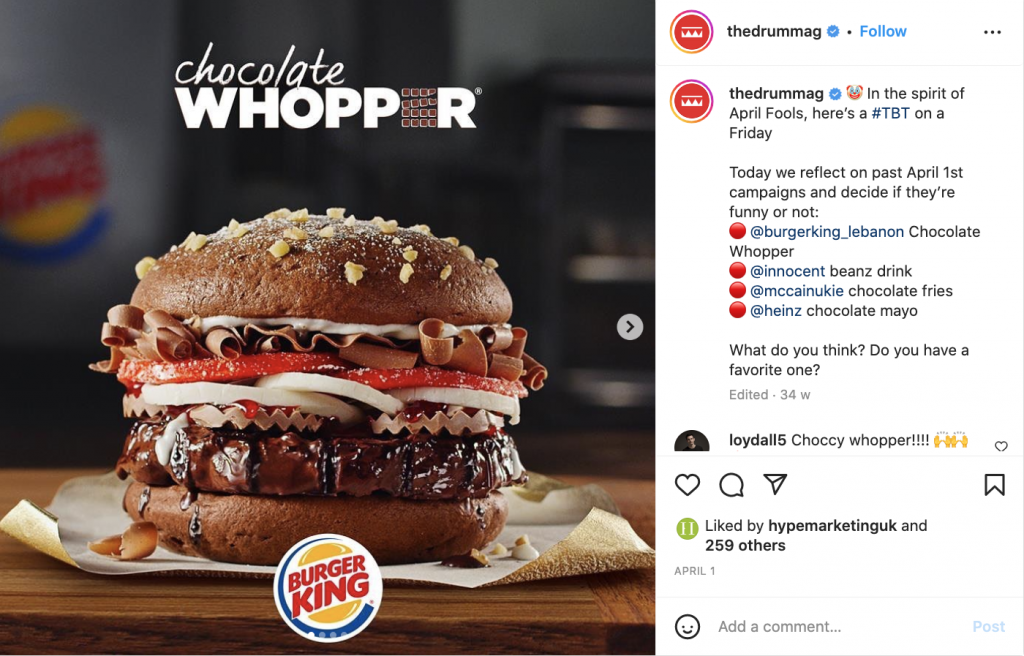 Friday 7th April to Monday 10th April 2023 Easter and hiding those Eggs has to be with Cadburys for all the chocolate campaign inspiration. If you have a shop window you could get creative with an Easter display.
Saturday 22 April 2023 Earth Day theme is Invest in our Planet and you can find out lots of ways to join in on their website here. #earthday

MAY 2023
Saturday 6th May 2023 King Charles III's Coronation will be THE event of the year for us Brits to be patriotic. With a second Bank Holiday the following Monday, the celebrations can continue for longer. Whilst we've not seen such a sight in over 70 years, just like the passing of Her Majesty, we believe many brands will be making a nod to something to celebrate.
Monday 29th May 2023 National Biscuit Day has to be a favourite so whether you are baking or having an office biscuit dunking competition. #NationalBiscuitDay.

JUNE 2023
Pride Month promotes dignity, equal rights, self-affirmation and is a way of increasing society's awareness of the issues LGBT+ face. Many head for the rainbow of colours but this quote from Sweaty Betty has a strong impact whilst keeping the connection to exercise. #Pride2023
Monday 5th June 2023 World Environment Day #WorldEnvironmentDay and also World Refill Day refill.org.uk on Friday 16th June 2023 are essential for any business wanting to boost their sustainable credentials. Consumers are seeking out sustainability and prefer to buy consciously, especially Gen Xs. Even if you feel you say it regularly, it is always worth saying it again, promoting your efforts here and even announcing a new initiative.
Sunday 18th June 2023 for Father's Day #FathersDay

JULY 2023
Plastic Free July, again with the sustainable calendar items in June, now is a chance to share tips to help achieve this month-long challenge.
May 29th – June 4th 2023 is National BBQ Week so from promoting BBQ essentials, to sharing recipes, this is a biggie for the food industry.
Friday 7th July 2023 World Chocolate Day might be aimed at 85% plus cocoa but any celebration of chocolate is good. For Remi Cachet we often talk about chocolate locks and with such beautiful shades, there is plenty to cover white, milk and dark shades.
Monday 17th July 2023 World Emoji Day share your most used or last used emoji #worldemojiday

AUGUST 2023
Tuesday 1st August 2023 Yorkshire Day is time for a little banter as only Yorkshire folk know-how. Who best to show us than Yorkshire Tea.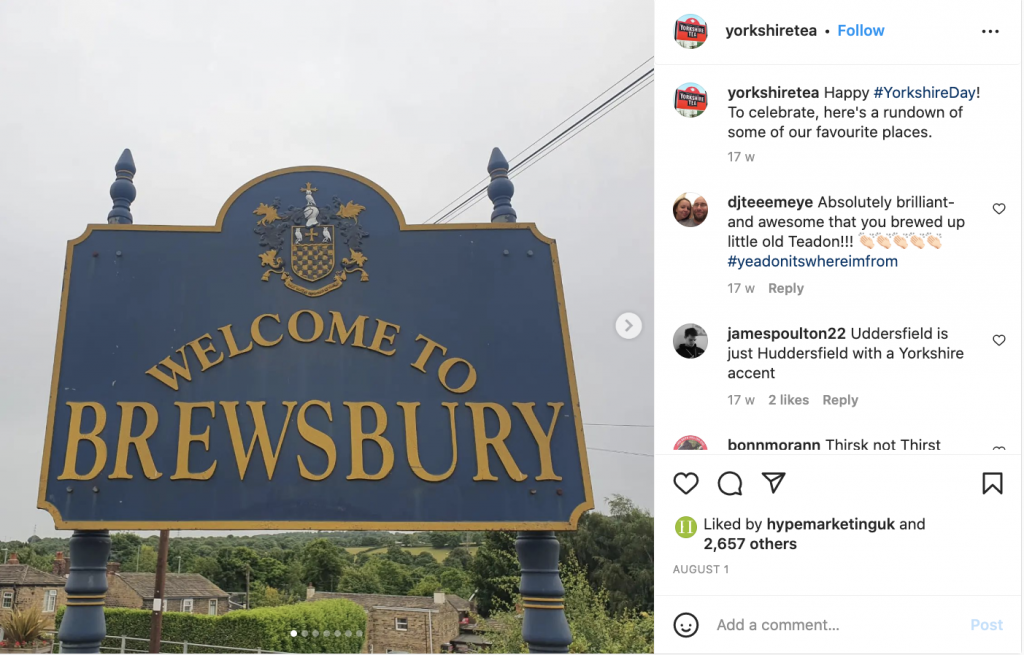 Tuesday 8th August 2023 International Cat Day and queue the memes like this one.

SEPTEMBER 2023
Friday 30th September 2023 Macmillan World's Biggest Coffee Morning host, bake, donate and enjoy coffee and cake all for a good cause. We held a coffee morning and it really was a lovely event to do with plenty of resources from their site.

OCTOBER 2023
With two month-long events to consider:
Breast Cancer Awareness Month #BCAM and #WearItPinkDay can help fundraise with a pink focus or not.   Full credit to GHD who have raised millions and who bring home just why you are raising the money with real-life inspiring stories.
Black History Month this year's theme is Black Resistance. #blackhistorymonth
Sunday 1st October 2023 International Coffee Day speaks to Emma's coffee addiction.  From quotes, memes or maybe invite prospects to hook up over a brew.
Tuesday 10th October 2023 World Mental Health Day is that chance to show your more sensitive side and how you maybe support your employees or what you find useful. Check out Lush's feed completely taken over to ask you to stop scrolling and 'Be Somewhere Else.'

NOVEMBER 2023
It's all about Black Friday through to Cyber Monday (Friday 24th to Monday 27th November 2023) full on weekend. Or is it? Green Friday and more conscious amongst us. The alternative Green Friday may nod to eco-warriors, and there is a greater movement towards sharing and doing good. Check out the likes of Oliver Bonas's fundraising during their sales to make the most of both worlds.

DECEMBER 2023
Saturday 2nd December 2023 Small Business Saturday re-emphasises the #shoplocal campaigns. From social support with likes, shares, and reviews that all cost nothing; it's all about encouraging people to shop on their high street instead of online. If you have a shop, then a little event might help draw more people inside.
We look forward to the big brands' Christmas TV Ads with Asda's nostralic take on the classic Elf film had Campaign Magazine name it their 'most effective Christmas ad'. The key theme this year was more subtle with big names like John Lewis and M&S opting for more charitable tones.
Stay tuned on social as we share more tips each month for captions, more awareness dates, and ideas you need to try.