Here at Hype, we've done a few gift boxing sessions and learnt a trick or two. Before you embark on your gifting venture, let us help guide you in the right direction with our secrets to a good PR Box …
We all love receiving a gift through the post, especially when it's a surprise and it's not just that essential new ink cartridge from Amazon (yes, we ran out this week!). It's exciting to receive, and the anticipation of what's inside and who it's from is a buzz. With 'gifting' being the current thing to do, and 'unboxing' being so popular with influencers on YouTube and with beauty bloggers on Instagram Stories, the potential exposure from just a box is huge.
Who is on your hit list to impress?
When it comes to YouTube sensations and beauty editors, you need to hone your list down. Really take the time to trawl their channel and work to get to know it. It's time-consuming but will help you to identify if that person really is right and will have an interest in your product. Maybe they have written something similar or have a dilemma that your product will help solve.
A couple of points to think about include:
Are they online or paper editor?
Do they also represent another publication, which could get you a further bite of the cherry?
Head to their personal social to check what they are currently up to, just in case they are heading off on maternity leave or moving on to a new venture.
Here is an example of a good PR Gift Box we put together for our previous client, Gold Class: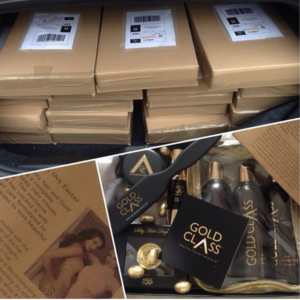 Clear Strategy
Ensure you know why you are doing this and what you want to get from it. This will help to keep your focus on bringing everything together.
Budget
Granted, the products you are sending out probably have a significant value, but you are likely to need to double this per PR box to allow for treats, packaging and posting. With high-end companies, it is essential that every element reflects your brand, so spending that little bit more will be worth it, and will help to get you noticed.
Think Outside the Box!
It's no longer just about getting your physical product in front of your influencer. Sending your product on its own, without any support, really won't get it noticed, especially with these contacts constantly receiving gifts. The product USP is one thing, but your gift needs to be eye-catching and unique. Is there a chance to theme this, for example, with an ingredient you want to promote, an event going on, such as a festival, Eurovision or a sporting fixture, or maybe just a brand value?
Don't be afraid to think outside the box, have fun, and get creative in your thinking with extra items to add to your box to aid the theme. We opted for a summer theme for client, Therapi Hair's PR Gift box, and added in some a hair towel, sunflower-shaped biscuits and a few fruity tea bags to their UV protecting hair care:
Once you know what is going into your box, you can find something for them to be packed in. Whilst we are saying 'box', you could go against the grain and choose something different, like a gift bag or a hamper to suit your theme. You want them to be WOW-ed. We went with these funky, summer-themed boxes for Therapi Hair.
Here are some examples to get you thinking:
Holiday themed items, like a travel suitcase with passport documentation, a travel game, or an eye mask.
Festival kits, such as a small backpack including hand gel, lip balm and pain killers.
Popcorn tub and some sweet treats for a film release.
Reflecting on what is going on when you buy any gift these days, it really is all about personalisation. Absolutely add a personal note, preferably handwritten. We added some really cute postcards for the Therapi send out too.
A couple of other tips not to miss:
Timing is everything. From magazine lead times, key issues, down to the exact date due for delivery. Don't send your PR gift box out to arrive on a Friday when everyone's out of the office, or when the team will be out for a big event like Fashion Week.
Inner packing to help hold everything in place, so it arrives and unpacks just as beautifully as when you put it together. Remember to place your brand's logo forward.
Think about every element of presentation, even down to the plain cardboard box for safe shipment. Clean, branded tape, beautiful labelling; first impressions count!
If liquids are being sent, ensure lids are on tightly to avoid spillages, and fragile glass is wrapped safely.
Have a few trials of the packing and presentation to see what works best. Here, Lucy's past experience paid dividends when she neatly folded a hair towel that even Marie Kondo would be proud of.
Tweak your accompanying press release to reflect the theme.
It has to be said, that actually creating and making up the boxes is great fun, and seeing so many beautifully packaged treats ready for despatch is really exciting. We hope our secrets to a good PR box have inspired you. If you would like to talk to us about a bespoke project to create PR Gift Boxes, or a larger PR service, please get in touch.