March saw yet another Showcase for our lovely clients, Remi Cachet, held at The Hoxton, Holborn in London. We chose this venue for the 2015 Showcase Event and we loved it so much. Despite various site visits for alternative venues, The Hoxton, Holborn really fit the bill.
It was the launch of their Exclusive by Remi Cachet range of luxury hair extensions. The event consisted of two sessions. We invited trade and consumer press and aspiring bloggers to a morning session to launch the new range of hair extensions and give them an overview of the history of the brand. Many of the guests had not attended a Remi Cachet launch before. Therefore, providing this background was key to securing the PR opportunities we desired. We also let them loose on our head blocks to have a go at applying extensions for themselves, which always gives them a greater appreciation for an extensionist!
The afternoon session was extra special as we invited Remi Cachet Super Stylists to join us without telling them what the event was for. All it said was it was an 'EXCLUSIVE' event. It was also extremely special as the new range of hair extensions had been created to offer additional higher quality hair exclusively to Super Stylists. Every Super Stylist that attended was gifted a free Exclusive by Remi Cachet Weft. Just a little thanks for attending as many had travelled far to make it. They were so grateful for this extra touch just to see their social media reaction.
The new range was embargoed until the following day to release everything fully. We also shared other product developments and ideas at the event before presenting their Super Stylist certification.
The event ended with a few drinks to catch up personally with the Super Stylists, before catching the train back up north.
We had full attendance in both sessions, with live Tweets and Instagram's from the guests and coverage in all the major industry publications for the event. Everyone left enthused for the brand and the new range of hair extensions have been received by the press, stylists and consumer alike, extremely well.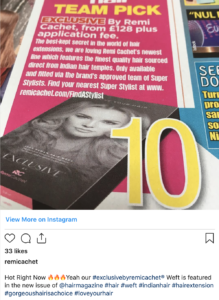 Hype's involvement was not limited to the planning and organisation of the event. Working with the design agency to create the packaging for the new product, which in turn created the e-invitations and other materials at the event.
However, big or small your event is, get in touch with the team to see how we can help pull everything together to make it a success.